Understanding private equity
If you're thinking about investing in private equity for the first time and would like to know more about how it works, here's a brief guide that you might find helpful.
What is private equity?
First of all, what is private equity exactly? We would sum it up as an investment approach that focuses on equity investments in private companies, i.e. buying shares in businesses whose shares are not listed on stock exchanges. Unlike listed public companies, these companies are privately-owned, so their shares are not openly available for any investor to purchase.
It also provides the opportunity to contribute to the wellbeing of the economy: private equity investment can be a significant creator of wealth and jobs. That's because private equity fund managers know how to identify a fast-growing company and help it accelerate to the next level. They are also adept at transforming a company which is underperforming, for example, by strengthening management and seeking to turn it into a market leader.
There are three ways that a private equity fund manager can seek to enhance businesses and create investment returns from private companies:
Buying into a company for a price that is lower than its anticipated future value
Growing the profits of the company through a combination of increasing revenues and improving efficiency
Introducing prudent levels of leverage in the company to enhance returns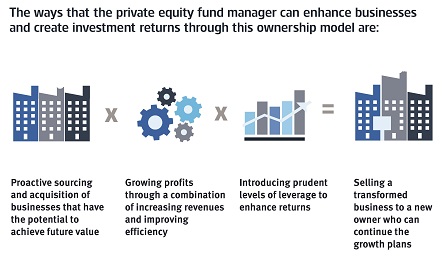 Each year, private equity fund managers invest billions of pounds in developing and reshaping ambitious private companies. By buying shares in these companies, a private equity fund manager essentially acts as a partner to the management team and business, sharing the risks as well as the rewards, through an aligned and committed approach. This can be achieved over the long term, away from the glare of listed markets.
Why invest in private equity – and how can I access the market?
The private equity market is sizeable: it contains five times the number of companies globally than are available on listed markets, so there is a broader investment 'universe' to choose from.
But first you have to find them. And that's not as easy as it might seem, as there is a lack of public information available about these businesses. It can therefore take significant effort to track down the companies that present the best investment opportunities. The reality is that most investors just don't have the time, resources or networks to do this effectively.
The DIY approach can also be risky. Investing directly can result in a lack of diversification within your portfolio; you could select the wrong company to invest in; and you could have to wait a long time for any one particular company's fortunes to improve.
On the other hand, our approach enables you to: gain exposure to the private equity market and diversify over sector, geography and vintage year (the year that capital is invested in a company) by investing in a pooled product run by professional managers.
How can we help?
Our objective is to provide you with a clear and concise understanding of how investing in private equity funds can improve returns and provide access to a wider range of assets than you will find on the listed markets. And the experienced private equity managers we work with have all the expertise required – they focus solely on this specific investment strategy. So, they know the market inside out.
Our private equity offering
The Standard Life Private Equity Trust provides you with an access point to private company investing that can provide more comfort on the risks than investing directly yourself. Explore our strategy on the types of private companies in our portfolio and the private equity fund managers we work with.
And that's not all: our "Investor Hub" allows you to find out more about the technical aspects of private equity. It also provides access to private equity news, views, research and industry links, to help you to make an informed decision on investing in private equity.
If, having completed your research, and if necessary, taken suitable advice, you decide that our private equity offering is suitable for you, the "How to Invest" section provides information on the various way in which you can buy shares in The Standard Life Private Equity Trust.