The abrdn Private Equity Opportunities Trust provides investors with access to a diversified portfolio of leading private companies. This is delivered through the investment objective, which is to achieve long-term total returns through holding a diversified portfolio of private equity funds and co-investments, a majority of which will have a European focus.
As managers of the Trust, we do this by investing in private equity funds and co-investments run by some of the leading private equity managers who have the expertise to source, grow and sell private companies, seeking to deliver attractive investment returns. The funds invest in mature businesses primarily through management buy-out transactions. The portfolio will comprise around 50 active private equity funds, managed by a select group of fund managers, with a target of building an underlying portfolio of around 400 private companies.

The Trust's investment objective is to achieve long-term total returns for its shareholders from both capital gain and dividends. The Trust currently offers a progressive dividend just under 4% (it increases each year), rewarding shareholders for their patience as the portfolio value grows. The abrdn Private Equity Opportunities Trust is listed on the London Stock Exchange, so you can access our private equity strategy simply by buying shares.
Remember, that as with buying shares in any company, the value of shares in the Trust is not guaranteed and can go down as well up. You may get back less than you invested.
How the Trust invests in private equity
The investment objective of the Trust is to achieve long-term total returns through holding a range of private equity funds and co-investments, a majority of which will have a European focus. These funds in turn invest into established and profitable private businesses through management buyouts.
The Trust's cycle is straightforward. We make commitments to invest in funds, through the primary or secondary market, or in co-investments. The funds or co-investments then draw capital from us for around five years to acquire majority equity stakes in the management buyouts of private companies. After a number of years the private companies will be sold to industrial buyers, other private equity funds or exit through IPOs on listed markets. The investments acquired through secondary transactions will liquidate over a faster timeframe given the assets are closer to exit. The cash proceeds from the sale of the private companies are returned to the Trust through our fund commitments and we start the investment cycle again.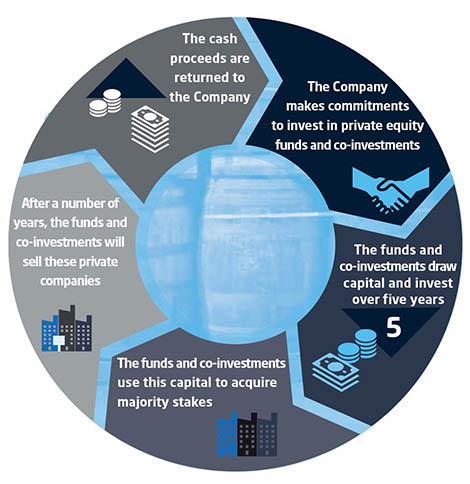 The Trust can invest in three ways: (i) the managers of a private equity fund will seek to raise fresh capital to invest typically every five years and the Trust commits to investing in such a fund – this is known as primary investment (ii) once a private equity fund has raised the fresh capital it seeks, no new investors are permitted into the fund. If an existing investor in that fund wishes to withdraw, say in year 6, the Trust can negotiate to acquire their interest - this is known as a secondary transaction (iii) In situations where the manager of a private equity fund seeks additional equity capital in order to make or supplement the acquisition of a portfolio company, certain investors in that fund may be offered the opportunity to invest directly into that private company alongside the fund and manager – this is known as a co-investment. Over time, the combination of these strategies is intended to deliver value to the Trust's shareholders.
The Trust's manager, SL Capital Partners, is abrdn' dedicated private equity arm. We have the expertise to source, select and manage your exposure to private companies. The team at SL Capital Partners has managed the Trust since 2001, has decades of experience and is guided by an experienced board. We use our experience and knowledge to search the market for attractive private investment opportunities for you, our clients.
The technical section of the website provides more detail on how a management buyout works, the attractions of primary and secondary investing, and how this influences the exposure of the investment across geography, sector and vintage year. It also explains the characteristics of a private equity investment trust, including net asset value, discounts and the outstanding commitments to the various private equity funds to which we have undertaken to provide capital.
You can find out more about the private companies in our portfolio here and the fund managers we work with who invest in these companies here.